Our Subscriptions are Simple & Flexible!
Choose how many birthday cards you need per month
w/ flexibility to change or pause at any time 😊  
Only $2 per card + free shipping
use code: HOLIDAY50
for 50% off your first 3 months!
Choose which cards you receive each month
or we can surprise you with cards from our collection!
We GUARANTEE your friends and loved ones will enjoy them!
How it Works
1.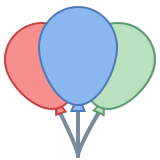 Check out our Fun collection of Birthday Cards!   
When you sign up, you will receive cards from our collection each month. We've designed our collection with your loved ones in mind and we guarantee it will give them a smile on their Birthday!
2.

Choose how many birthday cards you need each month. Busy Families get invited to a LOT of Birthday Parties!
 3.

Sign up & Save!
Plans start at just $3.99 per month with FREE shipping! No more last minute stops to pick up a card on your way to the party!
Shop our collection of birthday cards
proudly designed & made in the USA
buy one at a time or choose boxes of 12+
shipping is always free