SAVE 25% Off Your First Month with Code:  BIRTHDAY25
It's Simple

😊😊😊
-You Choose How many cards you need each month
-We Pick the Cards and Send Them to You from Our

Fun Collection
-Save up to 33%!

 
1 Birthday Card per month  Only $2.99/month (Save 10% w/ quarterly delivery & pay only $2.69 per card!)
FREE shipping!
2 Birthday Cards per month $5.98 Only $4.49/month (Save 25% & pay only $2.25 per card!)
FREE shipping!
3 Birthday Cards per month $8.97 Only $5.99/month (Save 33% & pay only $2.00 per card!)
FREE shipping
1 Birthday Card/Month- SAVE 10%

when you choose quarterly delivery!

2 Birthday Cards/Month- SAVE 25%
3 Birthdays Cards/Month- SAVE 33%!
CardHop delivers premium discounted birthday cards direct to your home so that you will never be late to a birthday party or over pay for birthday cards ever again! Life is busy! We make Birthdays simple for you!
Do I get to pick what birthday cards I am receiving?
No need to do that! We have designed a bunch of FUN cards that are guaranteed to make ANYONE happy on their Birthday!
We pick the cards and send them to you each month. Check out our collection by CLICKING HERE!
Your Satisfaction is Guaranteed!
Our cards are made in the USA on premium card stock and designed to make anyone happy on their Birthday!
Your subscription is backed by our 100% satisfaction guarantee!
Easily pause, cancel or change your subscription plan at ANY time!
*If you signed up using a promotional code, we ask that you continue your subscription for 3 billing cycles before being able to cancel through your customer portal. If you are unhappy prior to this time please email us at support@cardhop.com so we can help!
Check out CardHop's Premium Collection of Birthday Cards!
When you sign up for a CardHop subscription, we will send you cards each month from our collection below!
We GUARANTEE your friends and loved ones will enjoy them!
How it Works
1.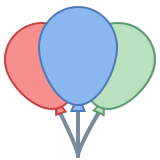 Check out our Fun collection of Birthday Cards! click here  
When you sign up, you will receive cards from our collection each month.
We've designed our collection with your loved ones in mind
and we guarantee it will give them a smile on their Birthday!
2.

Choose how many birthday cards you need each month.
Busy Families get invited to a LOT of Birthday Parties!
 3.

Sign up & Save up to 33% off! 
Plans start at just $2.99 per month with FREE shipping!
No more last minute stops to pick up a card on your way to the party!